ATLANTA'S MOST WANTED ENTERTAINMENT would like to offer you our professional Musical Entertainment services of Signe for that special event!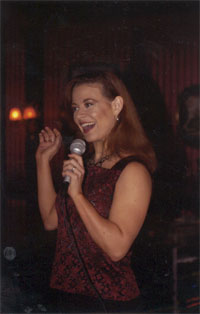 Originally from Elizabeth City, North Carolina, this sexy and mega-talented beauty is our most re-requested female entertainer! With the combination of her professional acting/singing background and charismatic personality, this talented, striking beauty has commanded the attention of literally thousands of people (including many celebrities) over the years.

Growing up, Signe sang with her church's children's, youth, and adult choirs and elementary, junior high, and high school choruses, in which she was often a soloist. She also performed with the youth group, Roy Askew's Young Americans and the Christian youth groups, Woody's Woodpeckers and the Lake Junaluska Singers, the latter of which she made an album with. Signe also sang with the College of the Albemarle Choral and sang in numerous voice recitals and weddings. At age 15, she was invited to perform an original song, " Carolina" (written by her friend, Brian Hobbs), at the Governor's Mansion Christmas Party in Raleigh, North Carolina. In Elizabeth City and surrounding areas, Signe performed and starred in numerous community theater productions.
In North Carolina, Signe was lead vocalist with the River City Jazz Ensemble and the River City Jazz Combo. In Winston-Salem, she attended North Carolina School of the Arts (voted by Smithsonian Magazine one of the top three arts schools in our nation!) as a Drama major.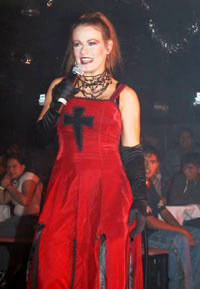 In Virginia, Signe studied acting and dance (ballet, modern, jazz, adagio, variations, and character) at the Academy of the Tidewater Ballet/Norfolk Civic Ballet and acting at Virginia Stage Company's Theatre School. She has performed in regional, dinner, and cabaret theaters in North Carolina and Virginia.
Prior to moving to Atlanta, Signe did an acting internship at River Arts Repertory Theatre in Woodstock, NY where she worked with Pulitzer Prize (The Shadow Box ) winning playwright, Michael Cristofer (screenwriter, Bonfire of the Vanities and The Witches of Eastwick) and danced with New York City's B. Muse Dance Theatre in the world premiere production of La Goulue and the French Can-Can (Can-Can Dancer.)
Signe moved to Atlanta after being accepted into the Alliance Theatre's prestigious Acting Intern Program where she performed in the Lunchtime Theatre productions of Comedy of Errors (Courtesan) and Chamber Music (Girl in Gossamer Dress/Theada Barrow), and understudied the role of Katerina Caveleri (the Opera Singer) in the Alliance Theatre's Mainstage production of Amadeus.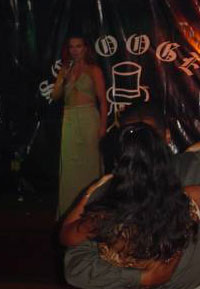 Signe has performed locally at the Academy Theatre, where she was a member of the Academy Theatre's Second Ensemble Company and originated the leading role of Meredith in the Academy Theatre's Genesis Series world premiere production of Antioch; and Theatrical Outfit, where she starred as Lucrezia in the world premiere production of award winning playwright Eddie Levi Lee (Isle of Dogs ) and Phillip Depoy's musical adaptation of Machiavelli's Mandragola.
Signe starred in two short films: Scandals (Nancy) and The Firebird (Barbara); was featured in two feature length films: Deadly Run (Dana) and Raney (Thomasina Huggins opposite musician, Mo-Jo Nixon); and appeared on the network television series In the Heat of the Night in the episode titled, " Family Reunion" (Connie, the manicurist). She starred in Gary Ruffin and the Bumpkins' music video Two Steppin' Out on Me shown on TNN. Signe has done industrial videos for the New York State Board of Education ( Getting Along on the Job, Lydia), Anacomp (training video, Secretary) the Georgia Department of Labor (Ted's Place series, Waitress), Rheem (hot water heater info video, Young Mom) and SCMI's Mini-Max (as SCMI's answer to a "Tool Time Girl": A Mini-Max Girl) and has appeared in national, local, and regional commercials.
Signe's not just talented - she's "quite a looker", too. She was featured (along with her handsome husband) in an international Ray Ban ad, modeled for Redken International, and was one of the winners of the 2000 Outer Banks' (N.C.) Best Body on the Beach Contest! Signe is also a former Little Miss North Carolina Talent!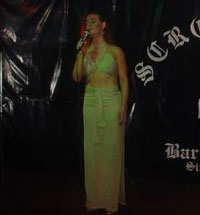 In July of 2002, Signe was asked to join (as a vocalist) local recording artists Pisces Kiss (see our "Bands" link) and will be on their next CD! (You can listen to their current CD on mp3.com. It may be under their former name: KDCollective.) Among the venues where Signe has performed with them are the 2003 Pride Festival, on Guest House Live in a "live streaming" event, The Soul Cafe, and at the Georgia Music Industry Association Showcase (up and coming artists are invited to perform for music industry "big wigs").

Signe has performed in benefits for AIDS Survival Project, Open Hand Atlanta, The AIDS Walk, CHRIS Rainbow Home, Toys for Tots, and Enlight at Buddies on Cheshire Bridge, Ansley Mall, and The Armory. She was honored as the only "real woman" to be invited to perform with the local female impersonator group, Cocktail Divas! Most recently, Signe co-starred with local recording artist, "D" (see his page on our site!) at The Armory in The Armory's Tuesday Night Variety Hour.
***Signe can also perform any of our Costumed Singing Telegrams (see our singing telegrams link!) and she is our Marilyn Monroe impersonator.