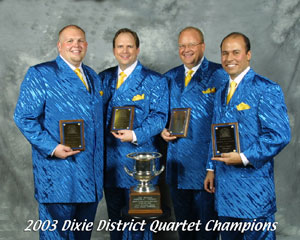 State Line Grocery is a very new quartet, having just formed in July 2003. They competed in the recent 2003 Dixie District Championship and outperformed 35 other quartets to win the championship. They have a combined total of 58 years barbershop experience, 47 contest appearances, 9 District Championships, size 196XXL jacket, size 172 X 126 pants and nearly 1,000 pounds total weight.
They are;
Tenor: T. Dylan Oxford
This is Dylan's third District Championship—at his third voice part! He won previously singing Lead with The Class of '94 and then as the Baritone of Riptide. He is very active with the Stone Mountain Chorus where he serves as Lead Section Leader, Assistant Director and Chapter Treasurer. He is a mechanical engineer by trade and when his schedule permits, loves to spend some quality time with his new wife Michelle. He's the smallest member of the quartet and is part of a three-way tie for having the least amount of hair.
Lead: Tim Brooks
This is also Tim's third District Championship—also at his third voice part. Back in 1987, Tim sang Tenor with The Atlanta Forum. Then, he was the original Baritone of The Svelte Bros. He is a past-director of the Stone Mountain Chorus and currently serves as one of their musical coaches. He is also a certified Singing judge in the Society's contest and judging program. He and his wife Karen own a Manufacturer's Representative agency and have two boys, Daniel and Michael. He's the oldest member of the quartet, 2nd thinnest and also a part of that three-way tie for having the least amount of hair.
Bass: Drew McMillan
For Drew, this is his second District Championship—both while singing Bass. He and Tim sang together in The Svelte Bros. from 1995 until 1998. He has a degree in Voice from USC and along with his wife Susan, is a professional singer and voice teacher. He's the 2nd largest, 2nd oldest and has sole possession of 1st place for having the most hair in the quartet.
Baritone: Heath Wheeler
This is Heath's first District Championship—all while singing Baritone. He is a ten-year member of the Cleveland Scream Machine chorus in Cleveland, TN. He runs a family business, Wheeler Electronics in Cleveland. He and his wife Alicia have a beautiful two-year old daughter, Reagan. He was picked to sing with this quartet because he's the youngest, he's the largest and he's willing to drive to Atlanta for rehearsals.