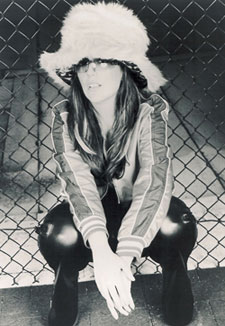 On her explosive debut album, Mochalatte,this fun-seeking, Atlanta-based song/writer delivers an eclectic mix of pop, hip-hop and classic soul. Expect sing-a-long choruses, danceable grooves, and memorable performances from this quirky and delightful performer.
The producers on Mochalatte include Wizard(TLC's former music director), B. Hood ( recorded/produced countless R&B artists like Morris Day, B Angie B, and; Miracle), hot country songwriter, Chip Martin (penned song for Mark Willis), and FYU (scored a gold single on the remix of "Don't Let Love Go" by En Vogue).
With such a diverse mixture of music in her influences, Cidney doesn't like to have her music classified. She stated, "I don't like to put labels on my music. I listen to all different flavors of music and it influences me. Since everyone is multi-dimensional, why can't I, as an artist, show you more than just one aspect of my personality?"
Cidney and her band, Thriftshop , have been touring to support the release of Mochalatte. If you haven't seen Miz Mills perform live, you shouldn't miss it! Her wild outfits (collected from thrift and vintage shops and her past job working in costume shop) lend a theatrical, kooky vibe to the performance.
So, give us a call and book
Cidney Mills
for your upcoming event and you'll experience why we are

ATLANTA'S MOST WANTED ENTERTAINMENT !