ATLANTA'S MOST WANTED ENTERTAINMENT would like to offer you our professional Musical Entertainment services of ZeRo TaiKo Orchestra for that special event!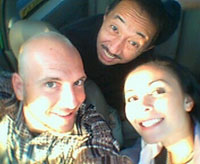 Biography
ZeRo TaiKo Orchestra prowls the edge of fusion music, reshaping it into a unique, multi-sensory experience. ZeRo uses traditional Taiko, the ancient art of Japanese drumming, as a springboard into creativity by merging the percussive Ki [Japanese, for spiritual force] with the modern wizardry of synthesized sounds, ethnic instruments, bass guitar, and powerful visual performance. The result is a dynamic orchestra, which draws all audiences, no matter the age, gender, or cultural background, into the soaring rhythm and vision of their performance. Vibration and harmony, sound and vision, these are the catalysts which leap from ZeRo Taiko Orchestra to the listener, spirit to spirit, transforming the ordinary into extraordinary musical experience.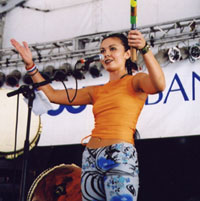 Elements of ZeRo TaiKo Orchestra
Taiko
Keyboards
Afro-Cuban Percussion
Bass Guitar
Violin
Interpretive Dance
Multi Media Vocals
Appearances
Shreveport 2003
Performing at the 2003 Red River Revel Arts Festival in Shreveport, Louisianna.
Atlanta Botanical Gardens 2002 Album
"Asian Cultural Experience" These pictures were taken by Jim and Scott....thanks :)
Conyers Cherry Blossom Festival
ZTO celebrates the cultural exchange of international art and music at the annual Conyers Cherry Blossom Festival.
JapanFest
JapanFest-a huge festival sponsored by the Consulate General of Japan, Japan-America Society of Georgia and the Japanese Chamber of Commerce of Georgia. It took place in October at Stone Mountain Park. Thanks to Steve, Nat and Andrea for the pics!
Woodruff 2001
"Celebrate Diversity Through the Arts" at the Woodruff Art Center...a program put together by David Manuel to promote Culture in entertainment.