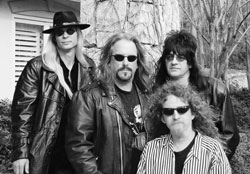 Biography
Berny - Lead Guitar and Vocals

A longtime Atlanta resident, Berny has seen the music scene through many changes. Picking up the guitar while still in school, he was driven by the blues masters, first the early pioneers like Elmore James and John Lee Hooker. Soon the gradual progression led to rock influenced players like Johnny Winter, Duane Allman and the late, great Stevie Ray Vaughan. Playing in many bands since then, he survived the sounds of the 80's and 90's by incorporating his blues influences into high energy rock and roll. So if you like hearing a guitar player who puts real emotion and raw energy into every song this is who you want to hear.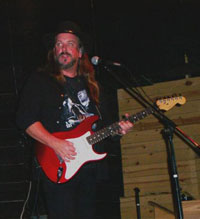 Mink - Drums and Vocals As the other half of the rhythm section, Mink is solely responsible for keeping fans out of their seats. Having the ability to be as flashy as anyone, his main goal is to lay down a beat that makes it impossible to sit still. Listening to him play, it becomes apparent that he is influenced heavily by the early rockers. Having been dedicated to playing music since a young age, he has played many styles, which he has drawn from to make his own.


Rico - Lead Vocals and Guitar Utilizing his edgy tenor vocal style and solid guitar skills, Rick began fronting heavy metal show bands on the Midwest ballroom circuit in the 80's and later in Florida hard rock clubs. In his 12 years in the Atlanta area, he has performed and recorded with various college market alt-rock party bands and eclectic projects with local talent. Rick's energetic stage presence and amiable demeanor help make him an enjoyable spectacle for any audience.


Tainge - Bass Guitar and Vocals As one half of one of the tightest rhythm sections in town, Tainge knows what it means to be rock solid. Also a longtime Atlanta resident, he has played in bands doing everything from heavy metal to all original roots rock. Having spent years covering some of the best bass players in music, Dusty Hill,John Paul Jones, Tommy Shannon,and Berry Oakley, he has developed a style all his own, the perfect foundation for the Z T B sound.