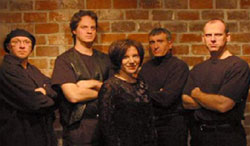 Synergy is one of the premier wedding bands in Atlanta. We are all about offering our clients high quality music and excellent entertainment. Synergy is a band made up of Atlanta's finest musicians. We are here to offer you the "Ultimate Musical Experience."
Our goal is to entertain with an explosive musical performance while getting the crowd involved - playing the music that you love.
We play Jazz\Blues, Latin, Rock, Pop, Disco and other styles of music. The Ultimate Musical Experience.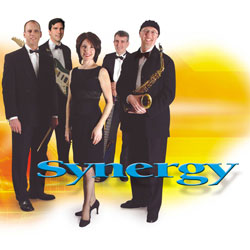 David Scott - Keyboards, Vocals & Sax

David has played proffesionally for 25 years. He started out in the Ozark Mountains of Missouri where he grew up playing a wide range of musical styles, everything from big band swing on the Mississippi river boats in St. Louis, rock and roll, blues and country in the clubs around the St. Louis and Kansas City Area. At age 17, David was already in the recording scene in Kansas City where he produced and performed on countless recordings for TV and radio commercials. At age 18 he performed on his first soundtrack for a national released motion picture. David has lived in the Atlanta area now for 18 years where he has been very involved in the music scene of Atlanta. David has played in various Atlanta clubs and restaurants with bands and as a solo artist. He has also performed on many recordings in the Atlanta area. David is also a national released solo recording artist. In 1996 he released a contemporary Christian project entitled "Hear My Heart" where one of the singles on that project ( Give Thanks) reached the top 20 in some areas of the country. David has since release two more solo projects and is currently working on his fourth. He also owns a recording studio where he produces full length and demo projects for other artists.
Verna Law - Vocals

Born and raised in Gonzales, Louisiana, Verna has sung professionally for 22 years. She holds a bachelors degree in Vocal Music Education from Louisiana State University, where she studied voice and piano. Verna has toured nationally with several cover bands. For the past 2 years, she has performed in Budapest, Hungary for the Greater Europe Mission Conference. Currently juggling the tasks of leading worship at Fellowship Bible Church in Roswell, freelancing nationwide, and working on her first original album, Verna is a very sought after talent in Atlanta.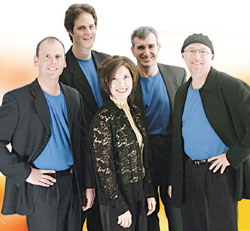 Jeff Higginbotham - Drums

Jeff began playing the drum set and snare drum at an early age. Jeff studied at Kennesaw State University and began his part-time freelance career as a musician. He has recorded jingles for radio and TV and has freelanced with jazz, funk, rock, pop and Latin bands. He has worked with the Kennesaw State Jazz band, the Billy Graham Association, the Steinway Association and has accompanied numerous contemporary Christian artists. He has freelanced in Atlanta for more than 10 years. Jeff is a staff musician at Church of the Apostles. While working a full-time job as a commercial banker for Wachovia, Jeff continues to freelance and operate a home-based drum studio.
Tim Burle - Guitar & Vocals

Tim began playing the guitar at age 12 and soon realized his passion for playing. By age 14, he was playing rhythm guitar in a small country band and, at 17, was playing lead electric guitar in a sought after rock'n'roll band in the rural towns of Southeast Missouri. After taking a break to earn a degree in Electronics Technology and accepting a position as an Engineer for the Western Electric Corp, Tim continued to play in clubs around the small towns of Southern Missouri and Illinois until a job transfer brought him to Atlanta. For the past 10 years, Tim has served on several Praise and Worship teams for churches in the Marietta area, as well as performing overseas in Budapest, Hungary for the Greater Europe Mission Conference, and in Augusta, GA for the Bill Glass prison ministry.