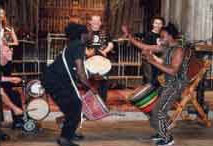 With a history of over 2,500 events in 16 countries around the globe, The Drum Cafe has the experience to deliver an unforgettable interactive team building or entertainment event.
Bringing specialized corporate facilitators, performers and enough drums for everyone present (from 20 to 2000), the Drum Café facilitates and creates an environment in which even the most rhythmically-challenged will be able to find and follow the beat.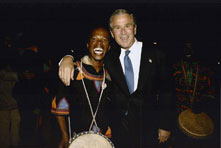 The Drum Cafe has truly mastered the art of turning large groups into an orchestra within minutes. The Drum Cafe has facilitated for groups of up to 3500 people from some of the top companies in the world. Has played for HRH Queen Elizabeth, Prince Charles, Nelson Mandela , US President -George Bush and British Prime Minister Tony Blair as well as many high profile company CEOs and leaders. Our expertise is getting any group to let go, have fun and truly get the benefit of this unique learning experience.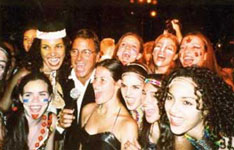 Some of the top drummers in the world work with The Drum Cafe to add energy and enjoyment to your conference, team building event, celebration, product launch, or training program.
The interactive group drumming is the most fundamental way to reduce stress and to learn to work together, celebrate success, build community , build team spirit, relax, and break down racial, political, cultural, gender, and age barriers.