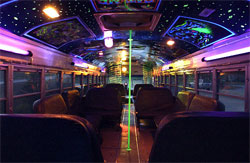 FAQ
Q: What does the Disco Party Bus look like inside?
A: The bus has disco balls, mood and dance lights, and surround seating for conversations in the front of the bus. Please go to the picture gallery page to see pictures of the inside of the bus.
Q: Where can the bus take us?
A: We can take you almost anywhere you want to go. Please go to our home page to see a list of frequently booked events we can take you to.
Q: How many people can ride in the bus?
A: The bus will hold up to 40 people!
Q: Can we eat and drink on the bus?
A: Yes! You are welcome to bring anything you like on the bus.
Q: What makes the bus a "Disco Party Bus"?
A: On our bus you can stand up and dance or relax in your seat. Our drivers have personality and knowledge of all the hot spots. It is a fun, and safe form of transportation for you and your guests.