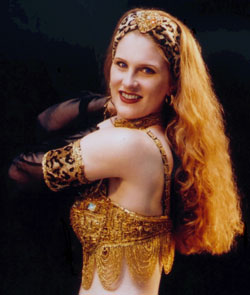 Aziza provides professional, authentic Oriental dance (Middle Eastern dance) performances suitable for all audiences with the use of elaborate costuming and a variety of sensational props. Her performances are usually accompanied by authentic prerecorded music, however, live music is available for an additional fee. She also provides knowledgeable instruction in the art of Oriental dance from beginner to professional levels in either group or private sessions. Aziza is the Artistic Director of the Sawah Dance Ensemble.
Winner of Middle Eastern Dance in North America Competition 2002, Aziza has also been nominated for Best Kept Secret 2002 by Zaghareet Magazine. She has also been featured in The Wall Street Journal, Atlanta Magazine, Atlanta Journal Constitution, WGCL's Good Morning Atlanta, Creative Loafing, and Jezebel Magazine.
Aziza has had the pleasure of performing for former President Jimmy Carter, the Atlanta Midtown Music Festival, Fox Television's 30 Seconds to Fame and legendary country singer George Strait.